Turf route

Peat colonies, bridges and locks

During the Turfroute you will sail through no less than three provinces in two weeks: Drenthe, Friesland and Overijssel. Along the way you will experience a piece of romance, with a clear link to the peat colonial past, thanks to many volunteers, who keep the Turfroute open and in operation. Through numerous bridges and locks you will pass idyllic villages like Havelte, Appelscha, Akkrum and Giethoorn, with their many sights.
Route

From day to day

Only open from mid-May to mid-September. Start in Zwartsluis, then in the direction of the lively shopping town of Meppel. From here you sail on the Drentse Hoofdvaart. Through and along the Drentse towns of Havelte, Diever and Dwingeloo (beautiful cycling area) you have to pass through 6 locks and several bridges until the exit to the Opsterlandse Compagnonsvaart. This canal has 5 locks, with in the middle the beautiful village of Appelscha, until you reach the Tjongerkanaal. By taking this canal you can go via Mildam to Echtenbrug / Heerenveen. Or take the northern route via Akkrum (lowest clearance height 3.35 m). Or take the bend just before Akkrum through the power channel. The turf route is opened and kept in service by volunteers, it offers very varied nature along the way.
Prices & Availability

Enjoying the morning dew and evening red

Interested in the concept of loosing time and completely surrendering yourself to peace? Enjoying the morning dew over the fields and the sunset sky? If you already see yourself relaxing on the deck of one of our motor yachts, check our prices and availability now.

Search & book your yacht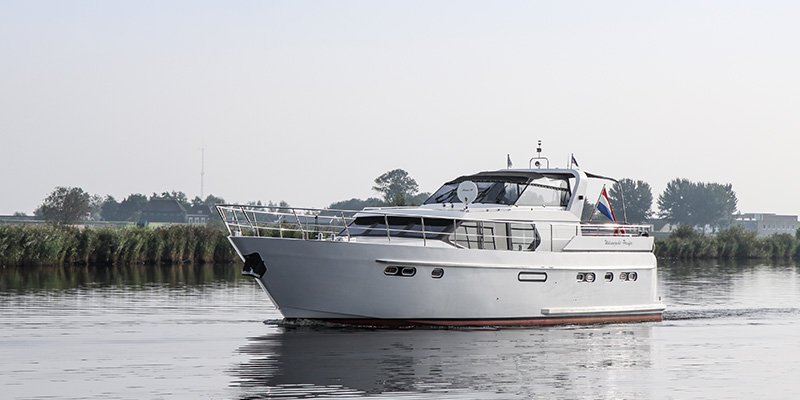 ✓ Reliable yachts
✓ Diverse fleet
✓ Technical service